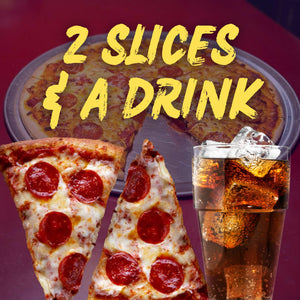 For only $12.50 per person, satisfy your hunger with two delectable slices of pizza, handcrafted with the freshest ingredients, and perfectly balanced with our secret blend of spices and flavors from Jack's Dig-In Cafe.
Pair it with a refreshing soft drink of your choice, offering a delightful fizz that complements the pizza perfectly.
Designed to easily cater for 25 people, our Pizza & Drink package makes hosting stress-free, affordable, and delicious. Now, you can focus on making memories while we take care of the food. Enjoy the ultimate pizza party experience without breaking the bank! Order now and let the good times roll!