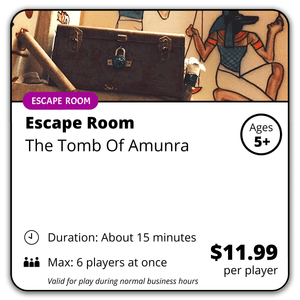 Jack's Escape Tomb is a 15-min puzzle and riddle filled experience! Follow Lead Inspector Howard Carter into his archeological mission to find ancient artifacts and escape before you disturb and anger the deities!​

Location
655 Equity Ave
Conway, AR 72032 
Hours: Fri 5:00 PM-9:00 PM | Sat 1:00 PM-9:00 PM | Sun 1:00 PM-6:00 PM 
Escape Room $11.99
1 Escape Room attempt
About 15 minutes
"Took my kids & nephew here over the weekend. None of us had ever been, but we will be back! I loved seeing my girls come out of their shells in laser tag/archery & they were all so proud to beat the escape room! The staff was super friendly & there was plenty of seating for observers. I finally had to bribe the kids to leave! Really neat place & got us out of the house on a rainy day!"- - - Lauren L.

"The activities were well organized and supervised by the staff. The staff was very friendly and helpful. We had so much fun!"
- Elizabeth R. 
"2nd time coming here. One of a kind place! Very clean! Great friendly staff. The low impact paintball was safe for all ages (my kids are 5 and 7). Just a blast!"
- Luciano